If a contact meets the goal set on a workflow, the contact will be removed from the workflow.
For a typical campaign, we would build a Thank You (TY) Workflow and a Nurture Workflow.
TY Workflow: Triggered when a contact submits a form. Waits 1 minute and sends a TY email. Enrols the contact into the Nurture Workflow.
Nurture Workflow: A series of email or SMS nurtures. The series provides valuable content related to the form submitted and encourages the contact along a journey from top to middle to bottom of funnel.
Which of these workflows should have a goal set?
The TY Workflow typically should not have a goal.
The purpose of setting a goal is if a contact enrolled in the workflow meets the goal, that contact will then be removed from the workflow. We want everyone to receive the Thank You email, so there should be no goal on the Thank You workflow.
However, when it comes to email nurture workflows, we want the contacts to continue receiving the email nurtures until the contact takes some action that we are encouraging them to do, and therefore meet the goal of the workflow.
Example scenario:
When someone fills in a form on a landing page, they get enrolled in the TY Workflow.
The contact received the TY email.
The contact gets enrolled in the Nurture Workflow.
We set a goal in the Nurture Workflow: is contact is member of Sales Qualified Lead (SQL) List.
If a contact is on email #3 in the series, and they click a CTA in the email to fill out a SQL form, they will meet the goal criteria and be removed from the workflow.
The contact won't receive any more nurture emails, because they've met our goal.
Where to set the workflow goal?

On the top most portion, click 'Goals'


Then click on 'Set goal'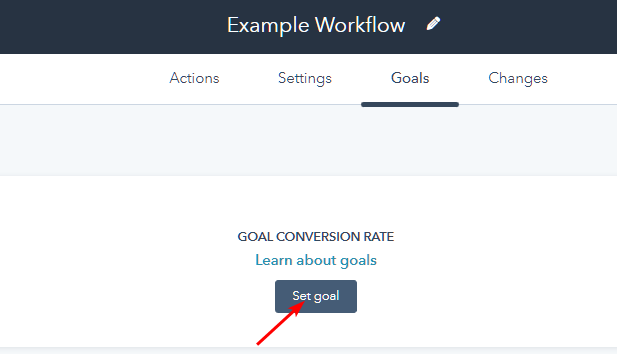 You can browse through various filters to set the criteria for your goal.
Once set up, click 'Save'. Your workflow goal is now set.